TAKUMI COMPANY offers full service Woodworking and Construction in top quality authentic Japanese style. This includes initial consultation, design, engineering and building. Our projects range in size from door and furniture items to whole house construction.
This area is intended to provide more in-depth information on our services, Japanese Architecture in general and links to other resources. Please browse through the titles to the right for information on specific subjects.
To return to our website homepage please click on the link to the right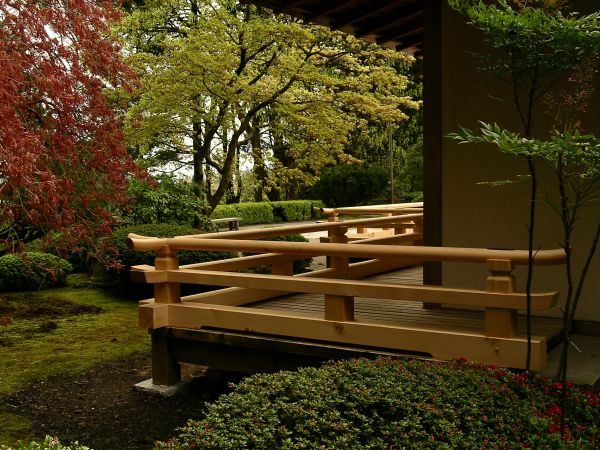 Events:
A special event is taking place in January. Hide Kitazawa, a highly accomplished carver who's works include temple lions, dragons, and Noh mask carving will be visiting from Tokyo. His skills will be put to use at the Seattle Taoist Studies Institute creating fixtures and leading weekend workshops. For more information contact us or follow the link to the right.

Many people express an interest in learning the craft of Japanese Carpentry. In response Dale Brotherton, owner of Takumi Company occasionally leads workshops to provide introductions to this ancient craft. Classes conducted in the past years have included projects to build Entry frames, Small roofed structures, and saw-horses.
In 2017 both the Spring Port Townsend's class and the Fall Ashland class produced garden gates. Follow the link on the right to view class photos.
So far there are three classes planned for 2017. Two at the Port Townsend School of Woodworking starting the weeks of April 30th and May 7th. One class in the Fall at Econest in Ashland from October 15th to the 21st. The Port Townsend classes will be conducted in two parts. First concentrating on tool setup and use. The second part will focus on framing, including hip beam layout. See the links to the right for more details.
In addition, a weekend class on tool setup has been scheduled for the Seattle Woodcraft Store for the weekend of April 21st. Please contact the store for information: https://www.woodcraft.com/stores/seattle/classes
Although there is no substitute for undergoing a full apprenticeship to learn Japanese Carpentry, these classes provide invaluable information on basic setup and use of Japanese tools, along with joint cutting techniques. The tools and knowledge gained can readily be applied to any style of fine woodworking. It is also recommended that aspiring apprentices first participate in a class to get a feeling for what the work involves. View the link at the right for more discussion on apprenticeships.
---