On this Vancouver addition we had the opportunity to use traditional clay wall systems. Clay walls of various forms have been used throughout history around most of the world.
In Japan the common approach is an infill wall within the Post and Beam framework called TsuchiKabe. Wattle and daub in traditional English style.
It consists of a tied lattice of split bamboo as a structural frame (wattle) with a heavy clay/straw/sand mix plastered on both sides (daub). The plaster is built up in 3 coats resulting in a solid clay wall approximately 2 1/2 " thick. The finish is typically very flat with a fine sand texture, but has subtle color variation. The clay material itself naturally imparts a warmth and solidity, the look and feel of which cannot be reproduced with modern materials.
For this project we used the Japanese method for interior partition walls. For exterior walls we chose to use a traditional German system called Light-Straw or Straw-Clay. This method achieves 12" thickness and is made of straw fiber that is coated with clay slip, placed between forms and then compacted. The forms are removed immediately to allow the clay to dry. The result is a tough mat of interwoven straw that is very insulating. Because of the clay, it is also pest proof and fire proof. The same Japanese clay finish can then be troweled directly over the Straw-Clay base.
First the Traditional Post and Beam frame in stages of assembly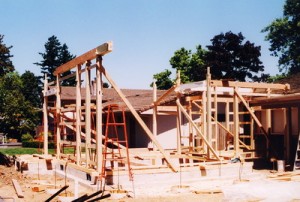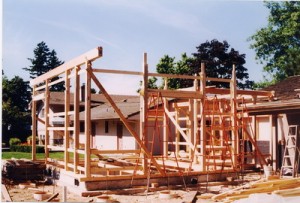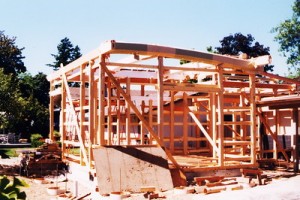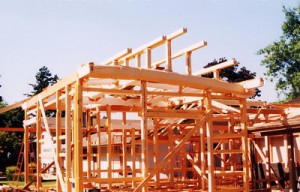 Plaster base coat being applied over the Straw-Clay wall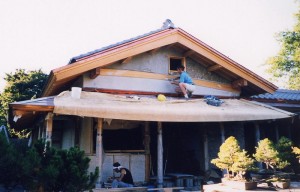 Raw Straw-Clay wall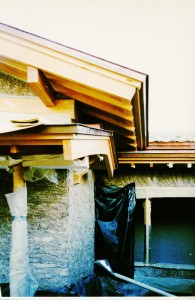 Form for placing the wall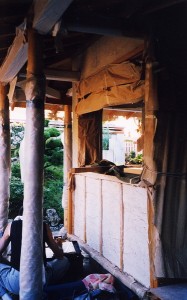 Rough wall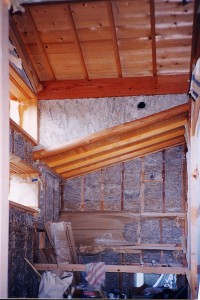 Finished Wall
Example of Tsuchikabe wall partially plastered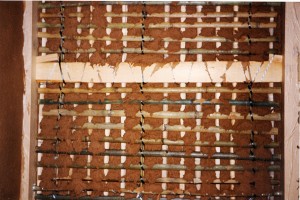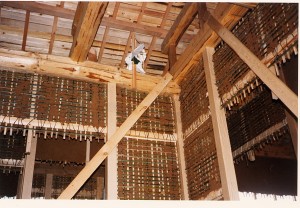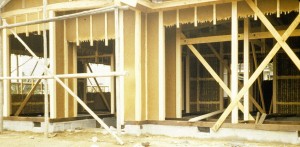 Finished Tsuchikabe
Finished Building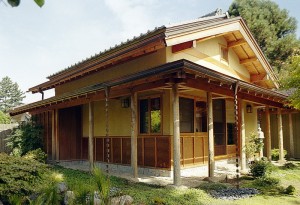 Natural clay walls are a joy to work with producing a beautiful, nurturing, healthy environment that can last for generations. The walls actually breathe without retaining moisture, but because of the mass, are very thermally efficient when created with adequate thickness. A clay wall is of course softer than cement so maintenance is required, but maintenance can be as easy as wetting the wall and adding more clay. Another great benefit is realized when the life of the building is finished. Clay walls can be recycled right on the spot. The ultimate organic, sustainable material available literally at our feet.
A well-weathered Clay wall building in Japan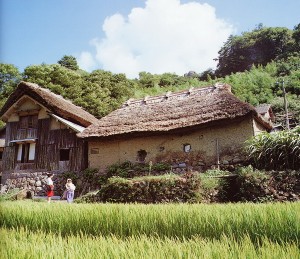 For more information on Straw-Clay and the Clay plastering movement in the United States visit the Econest website link.