In 2017 I was contacted to repair a gate in Seattle. The new homeowner was delighted to discover that the gate was actually one that I built nearly 30 years prior. I was delighted that the owners were committed to do whatever was needed to repair and upgrade for durability and looks.The original gate had been built on a shoestring budget with the posts embedded in the ground and unfortunately over the years the landscape had been reshaped to allow water to pool and drain right at the posts. Faced with rotted post bottoms the decision was made to rebuild. This time we opted for Alaskan Yellow Cedar and fit the posts to stones supported by subgrade footings. The original design was kept along with the original gate doors.
First: Shop work milling, layout and cutout of joinery
Assembly on site: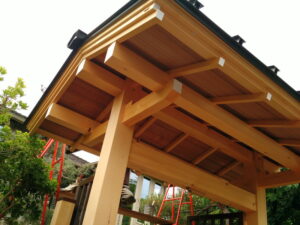 Gate completed and fence work in progress:
Fence construction provided by
Scott Thomas of KiseiBuild, Kalispell, MT.
Paving provided by Mark Bourne
http://www.windsmithdesign.com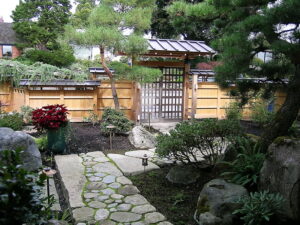 Finished.
This time the owners will be able to pass on their gate to their grandchildren.